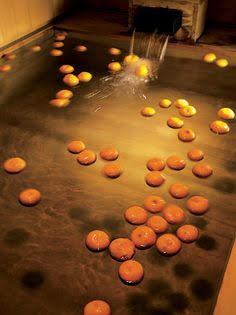 Japanese culture honours the seasons. Japan is a mountainous country of islands stretching from the Sea of Okhotsk in the north to the East China and Phillipine Seas in the south. Japan experiences five distinct seasons due to the wide variation in geography and climate: summer, autumn, winter, spring and tsuyu—the rainy season. The Japanese pay close attention to the blessings of each season, and practices have evolved to honour seasonal change.
Starting around Shogatsu—the New Year—icy winds bring snowfall to a large area of Japan stretching from Hokkaido Island in the north to the Hokuriku region of Honshu, the main island of Japan. (It does not snow in Okinawa Island in the south.) Heavy snowfall does not start until later in the year, sometimes in February. On the north island up to four metres of snow may fall in a season.
Spring is sakura—cherry blossom—season. The blossoms start to flower in the south in Okinawa, and the blossom season travels northward. The cherry blossom season only lasts for a few weeks, but spring typically lasts from March to June.
Next comes tsuyu—the fifth season. It pours rain. The start and end of the rainy season varies, but people usually avoid travelling to Japan during the last two weeks of June.
After tsuyu—the rainy season—ends the whole of Japan, with the exception of the northern island Hokkaido, enters a season of high humidity and temperature. Summer runs from July to September. Miyazaki mangoes and Kyushu papayas appear at the market. Typhoon season ravages Okinawa in the south.
In autumn, leaves change colour to gold and red, and people forage for mushrooms and harvest rice, apples, nashi and persimmons. Momijigari—maple viewing—is the tradition of visiting areas where maple trees have turned red. The days gradually grow darker and colder and autumn turns to winter once more.
At Shizuka Ryokan we have adopted the Japanese practice of honouring the seasons, with a southern hemisphere twist. In the guestrooms, flowers are changed in accordance with the seasons. Two seasons ago, our gardener planted cherry blossoms, with the aim of celebrating hanami—the cherry blossom festival—at Shizuka in the spring.
We have a seasonal yin yang go gyo yoga retreat with Lars Skalman and Cate Peterson planned for spring that ties in perfectly with the five seasons of Japan. Shizuka's shiatsu practitioners are trained in five element shiatsu—a philosophy that encapsulates the Japanese concept of the five seasons.
At the time of writing, our menu reflects the seasons, with delicious edible pine mushrooms gleaned from the pine grove just outside the kitchen.
In Japan during Touji–winter solstice–people take yuzu baths. Winter solstice falls on June 22 in Australia this year. Yuzu is a Japanese citrus fruit. Yuzu baths are believed to purify the body and soul. Here at Shizuka, we foster the Japanese yuzu bathing tradition by providing yuzu & hinoki bath salts with each overnight booking.
https://shizuka.com.au/wp-content/uploads/2019/06/Yuzu_baths.jpg
315
236
designer
https://shizuka.com.au/wp-content/uploads/2013/04/logoweb1.png
designer
2019-06-14 14:03:54
2019-06-22 12:59:11
The five seasons: Japanese traditions